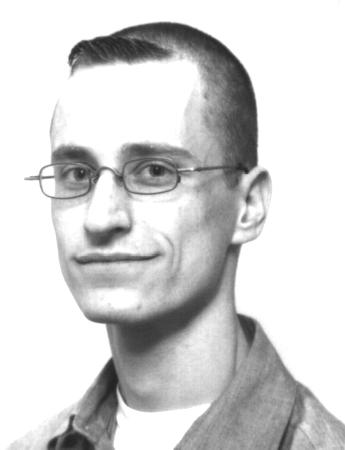 An old passport picture
. . . Mister Data's Wasted hotspots . . .
Introduction
Hey! You! *points finger in your direction* Yeah... You! How did you find this void in the far ends of the Internet galaxy? My guess is you have seen my name and directions to this spot somewhere on one of the Bulletin Boards I (used to) frequent. Perhaps it was even my own BBS: "Data's Lab". or on the Halloween-L or HOWL2000 email lists (check out my Halloween pages).
Since you are here you probably want to learn some more about me. Well, first of all I am a computer geek as many people would classify me. As a geek I make my money working for HPE (Hewlett Packard Enterprise) which split from Hewlett-Packard in November 2015. I'm still in the division known as "Enterprise Services" which is basically what was formerly known Electronic Data Systems or simply EDS. For those whom do not know: EDS was founded by Ross Perot in 1962 in Plano (near Dallas), Texas, USA and bought by HP in 2008.
Finding work
I started working for (then) EDS on november 1st, 1999 after I worked there as part of my university thesis work. I had never heard of them before I started my thesis. A good friend of mine, Eddy, happened to work there. He told me all about them, and helped me getting some inside contacts. Why did I want to work for such a large American company? Well, ever since I have been in the BBSing (1993) scene and came into contact with many Americans, I became very interested in the American way of life, the vast space and opportunities which this country provides to people who are willing to look beyond the status quo and/or go the extra distance. Especially in the field of computer scene, the United States is still considered the walhalla for geeks. Can we say Sillicon Valley, anyone?
Traveling: The United States of America
This interest for the United States of America resulted in me going there several times since 1998 and meet various people I only knew from the virtual world. Ofcourse my good friend Bug accompanied me on several of those trips. Being computer geeks, we had our official website which we updated during our trips there with the help of a digital camera, a laptop and a borrowed dialup account. They are still online:
Finding Love in the Unlikeliest of Places
The 2001 trip was a trip I will never ever forget. This was a trip stretching both the east and west coast through 11 flights and a road trip or two. I did visit friends in Los Angeles, near Salt Lake City, Baltimore, in Vermont and South Carolina. During my stay in Vermont I met a girl by the name of Stacey Lynne Atwood and fell in love with her. Can you imagine that? Talking online for years with someone, not having any romantic feelings for each other, then meet in real life and all of a sudden *BAM*, your heart is gone and sold to her...
Marriage: a New Beginning
On may 31st, 2003 Stacey and I got married in the small town of Fairlee, Vermont after which we moved to Rancho Cordova in California and started a completely new life. I started my new job on may 1st, 2003 at the California title-XIX account, as a System Adminstrator. To date, I still work at the same company, same account, but now as a senior infrastructure architect doing way more than just working on Unix systems.
Becoming a Dad: Kids, the Final Frontier
So as a newly wed couple in 2003, we set off to think about a honey moon, doing some traveling in our spare time, etc. Well, things don't always go as planned. Just a month or what after our wedding, Stacey noticed she was pregnant. On March 29th, 2004, Stacey and I welcomed our first daughter, Sterling Yvette. Wondering for a little bit if Sterling would remain our only child, fate made that decision for us. After a pregnancy that gave Stacey a heck of a bad time, our second daughter, Layna Jacelynne, was born by a hastily planned C-section on June 12th, 2007. The shock of a hasty C-section had not yet settled in or, Layna gave us a good scare: she collapsed a lung. Instead of cuddling up with our new baby, we spent the next 26 days in a Neonatal Intensive Care Unit (NICU). We were sure that we were done with kids after that experience! Fast forward to the very end of December 2007. Stacey takes a pregnancy test, you know, just to 'make her period come'. 10 Minutes later, I read the test result for her, and try to purposely freak her out by stating it came out positive. I saw one solid line and a second faint line. Being the geek I am, I should have known what it means that a pregnancy test is of the binary kind. They are either positive or negative, not a bit negative or positive. In short: we were expecting our third kiddo! After another less than stellar pregnancy experience, a C-section was planned. The health risks for both Stacey and the unborn baby simply became too big. I still wish they had an opening on August 20th for a "20-08-2008" date, but oh well. On August 19th, 2008, our first son Zander Johan Gottlieb was born. I guess sibling rivalry starts early, since Zander decided to one-up Layna, and collapse both lungs in a hospital without a NICU. So around 6am the next morning, after getting stabbed by a huge needle in the side of his chest, to stabilize his vital signs, he got to ride the ambulance without mommy or daddy to the NICU. After 15 days of recovery, my champ gets to go home! I can't believe this is already so many years ago....
Halloween: a new hobby
Now that I live in the US, I found a new hobby (besides being a husband for Stacey and a daddy): celebrating Halloween.
I am subscribed to the Halloween-L and HOWL2000 mailing lists and frequent a many halloween website to find new ideas and ways to enhance my prop making skills. Be sure to check out my Halloween HOW-TO pages and pictures!
Model Rail Roading
After many years being out of the model train hobby, I've picked up hobby again and started to build a Free-mo module. Check out my Free-mo module build pages.
The links section: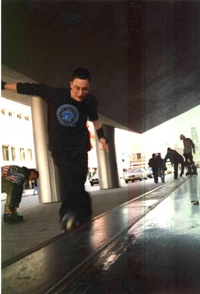 Me doing the basics of basics: a soul grind
Our engagement picture